5% OFF ONLINE WITH VOUCHER CODE with promo5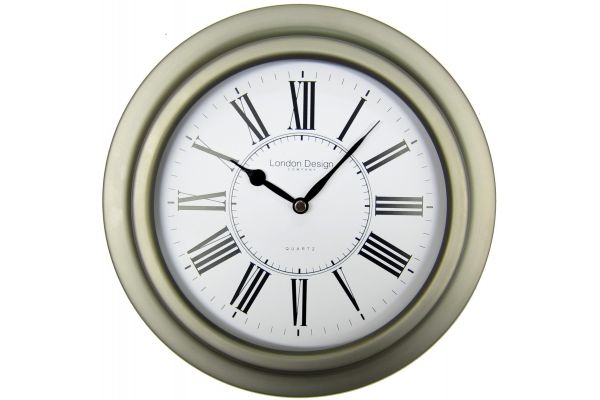 Porthole Style Wall Clock with Gun Metal Colour Case
London Clock 20249
Specification
Case Height

25.5cm

Dial Colour

White

Movement Type

Quartz Battery

Display Type

Analogue

Material

Metal

Category

Wall Clock
Description
Porthole style wall clock. Roman numerals on white dial. Glass fronted with Gun metal colour case.
Delivery Information
This item is ready for same day despatch if ordered before 4pm Monday-Friday
Free UK delivery– Royal Mail First Class Recorded as standard. Items over £150 sent automatically by Royal Mail Special next working day delivery.
Items under £150 - UK next working day delivery also available when you checkout.
This item is only available to ship within the UK.
Returns Policy
If for any reason you are not happy with your purchase, please return the item within 30 days of delivery for exchange or a full refund.
Items must be in original pristine and unused condition (including its original packaging, tags and documents), along with proof of purchase.
Return the goods by post quoting your order number and reason for return to:
Creative Watch Company Ltd. 106-108 Vyse Street, Hockley, Birmingham, B18 6LP UK.
You are advised to obtain a certificate of posting (available from all Post Offices at no charge), and we suggest you return goods by a similar standard of delivery to what we used (please don't over-insure or pay for very fast delivery). If you require a refund, we will endeavour to process this within 7 days.
Please read our full Terms and Conditions.
Price Match - Porthole Style Wall Clock with Gun Metal Colour Case | 20249
Please feel free to submit a price match request. We are confident that our prices are competitive, but on occasions there may be lower prices on offer. We would be happy to be given the opportunity to price match against other UK authorised retailers. We will consider the request during normal office hours, and if successful, contact you via email or phone to complete the purchase.
Porthole Style Wall Clock with Gun Metal Colour Case | 20249
Creative Watch Co Online Price: £20.00
---
Terms and Conditions:
We can only consider price matches for identical items from other UK authorised retailers. We make every effort to offer you the best possible price, however, we reserve the right to refuse any price match request for any reason.
Why Buy From Us?
Creative Watch Co has been established since 1978 and trading online Worldwide since the year 2000. Our renowned store houses over 40 different brands of watches and we are proud to be one of the largest in the UK.
Creative Watch Co are authorised stockists of all the watches we house.
All watches come with a minimum of a 2 year manufacturer's warranty and an unrivalled aftercare service.
If your watch battery drains within 12 months of purchase we will replace it free of charge (Return to Base and valid for UK customers only).
There is the option to have your watch sized to your wrist measurement prior to dispatch, ensuring it's ready to wear upon receipt.
We offer FREE delivery on all UK purchases, or £7.50 for Worldwide Delivery.
Watches "in stock" are available for same day despatch.
We do our utmost to price match other legitimate authorised UK stockists that have stock.
We can replace batteries, straps and bracelets for most known watch brands and we get to the bottom of faults that might perplex less specialist watch repair operations.
We offer a full hassle free 30 day refund policy on watches, providing it's still as new, and returned complete with box & guarantee. (Read our returns policy)
Secure online credit and debit card checkout.