Citizen Red Arrows World Chronograph A.T Watch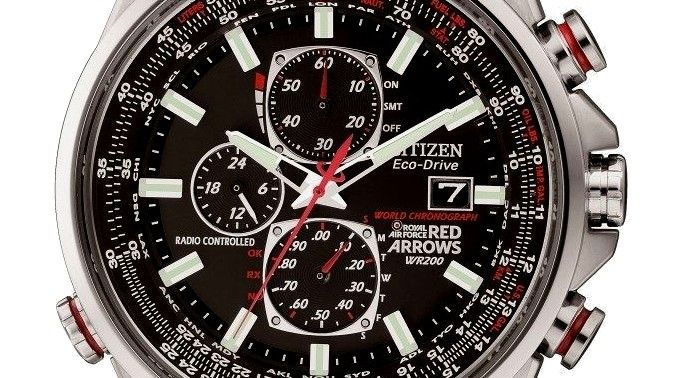 Citizen Watch brand have released their latest showpieces, The Red Arrows World Chronograph A.T Watch. Citizen formed a successful partnership with the Red Arrows several years ago, producing some of the finest chronological watches in the market place.
The Red Arrows are the Royal Air Force's aerobatic team, based at RAF Scampton. Since the Red Arrows formed in 1965 they have completed over 4,400 displays in various Countries around the world. Their reputation is built on passion and equipment, precision performance, commitment and professionalism and unrivalled skill. It is these qualities that have proven an ideal partnership between Citizen Watches and The Red Arrows.
So what makes the Red Arrows World Chronograph A.T so special? First and foremost it is one of the most accurate watch in the World; its Atomic Timekeeping makes it the most accurate timekeeper known to man. Your Citizen watch will synchronize itself daily with the nearest atomic radio signal maintaining near 100% accuracy.
Other features of interest; Automatic Time in 26 World Cities * Radio-Controlled in North America, Europe, Japan and China * A Power Reserve Indicator * 12 and 24 Hour Time Display * 1/20 Second Chronograph Measures up to 60 Minutes * Non –Reflective Sapphire Crystal Glass and a Perpetual Calendar.
Lastly to add that unique finishing touch to all of the Citizen Eco-Drive Red Arrows Collection, the Red Arrows Insignia appears on the watch caseback with their motto also inscribed, reading "Éclat" a French word when translated meaning "Brilliance" or "Excellence".