Best Wedding Watches For The Groom
The venue is booked and the guests have RSVP'd but there's still one thing you need to make your perfect day just that little bit more special. It's a tradition that a bride gifts her groom a watch on their wedding day, though this timepiece isn't to be worn on the wedding day itself. And so, with your suit all sharp and shoes polished, you begin the search for your wedding watch.
It may seem like a daunting task to start with but by following some simple guidelines such as these make this a lot simpler. Here are our top wedding watch Do's and Don'ts, read on further for more knowhow.
DO:
- Match your watch strap with your shoes and other jewellery
- Make sure your watch sits underneath your shirt cuff
- Keep the watch dial simple and clean looking
DON'T:
- Wear a rugged sports watch like your Casio G-Shock (great for a trek but maybe not a wedding)
- Wear a smartwatch, especially with the notifications turned on
- Keep looking at the time, your watch is there to complete the look, enjoy the day and make every second count.
A good starting point is by pairing your new timepiece with your other jewellery and accessories. You may think that your watch should match the metal of your wedding ring, though this isn't always the case. A watch can be interchanged to suit your attire whereas your wedding ring should never be removed and so for your wedding day it's optional to match your ring though this isn't a hard-pressed rule to follow.
For most formal events but especially weddings, a leather watch strap is deemed more traditional than that of a metal bracelet, by choosing a leather watch band you are able to find complimentary straps which should be paired with the colour of your shoes and belt. A black belt and black shoes call for a black leather strap and the same follows for a brown watch band.
If you do decide to wear a full metal bracelet watch then it is recommended that you wear a slim-line watch band, this ensures that your watch will fit comfortably under the cuff of your shirt sleeve and compliment your attire rather than distract from the event at hand. Brands such as Rotary, Citizen and Bering offer vast ranges of Ultra-slim watches where the case thickness exceeds no more than 8mm. The slimmer the watch case the less you'll notice your shirt cuff getting caught or knocking against your cufflinks, a surprising annoyance. For freshly bought fold over French cuff shirts, you will notice that your cuff is a little stiffer than normal, a slim-line watch case will reduce the contact on the cuff more than a large dial chronograph/divers/GPS watch for example, Seiko Astrons; a great watch for travelling but not for cutting the cake.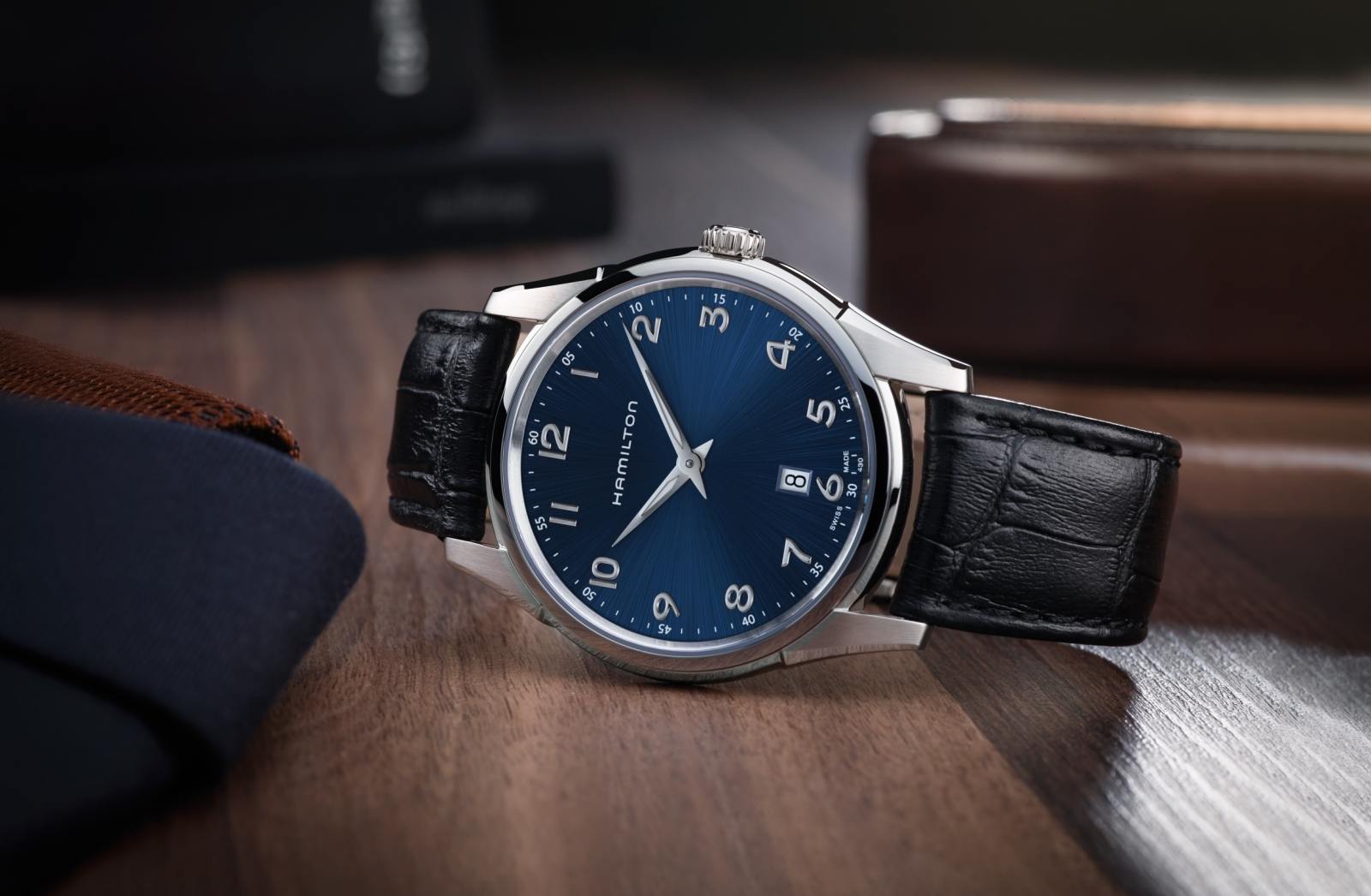 The watch above is part of the Hamilton Jazzmaster collection
It would be worth taking into consideration the way in which your watch appears in your wedding photos and even more how it appears when you're reminiscing 20 years later. By opting for a simple yet classic watch, the issue of fashion fads becomes a thing of the past. A traditional Tissot will look timeless especially when compared to popular fashion brands which are best kept for day to day wear. Anti-glare crystals will minimise the risk of glare if your watch is caught on camera, though a little photo editing on your photographers end will fix that right up, Sapphire crystal is also more resistant to damage and scratches. A few drinks on the dance floor may result in your watch being knocked about a bit, by choosing a higher quality design especially those in Swiss watches (think Tissot, Hamilton and Certina) the overall risk of damage is minimised, though sapphire glass cannot protect you from breaking out those old dance moves!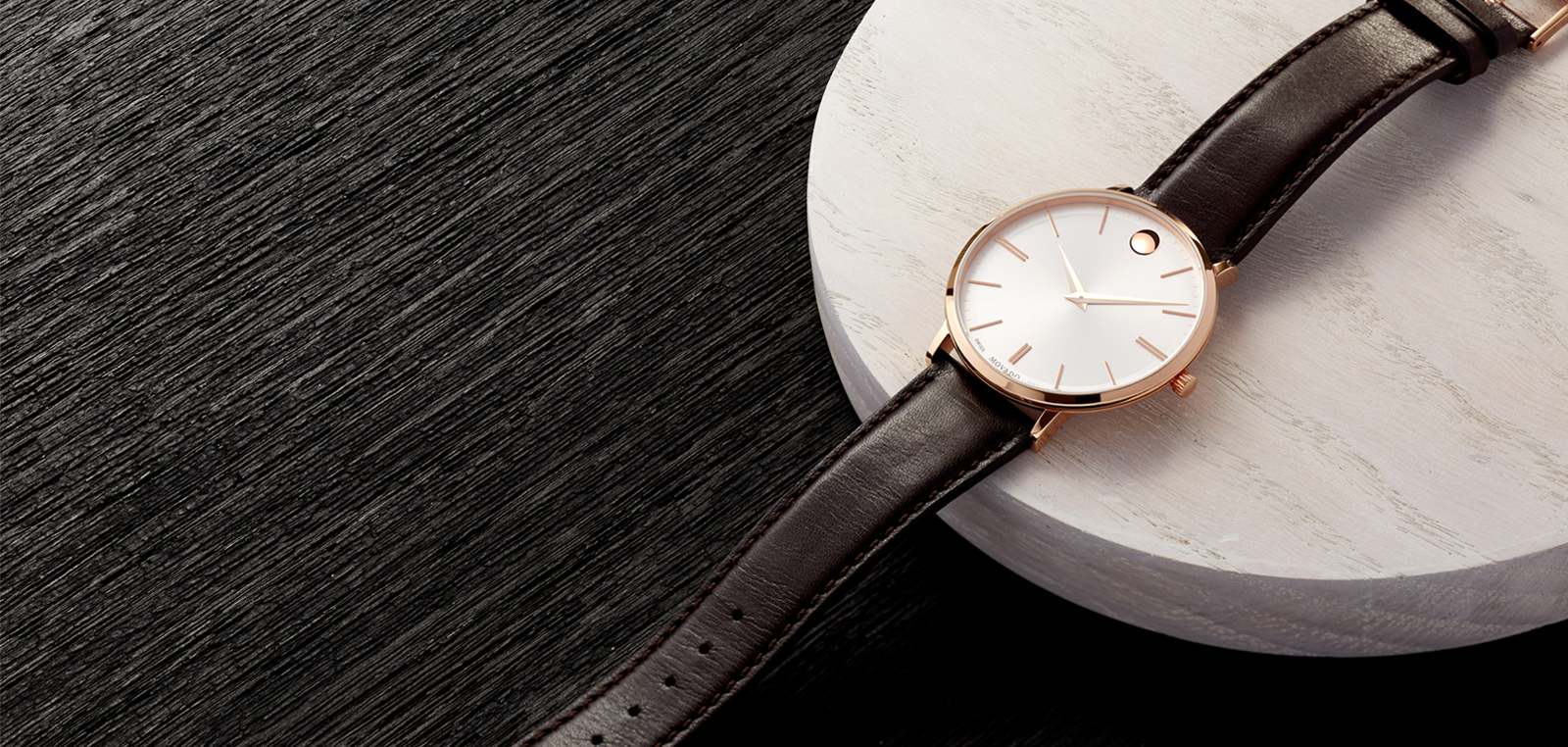 The watch above is part of the Movado Ultra-slim Swiss range
It should be noted that sports and smart-watches are not the typical choice for weddings, it is more traditional to wear a simple yet elegant dress watch. With these the dial should be either white, cream, black or dark grey and have either Roman numerals or simple line hour markers. Luminescent attributes on the dial can be rather distracting especially in the low light of your first dance and are best saved for more rugged events.
Maybe a wristwatch isn't quite your style, for years pocket watches have been worn on the groom or best man's waistcoat, these 'old fashioned' accessories have really made a comeback in recent years and are often given as gifts to the best man. Our range of pocket watches are available in both silver and gold plate, with full open hearts, engraveable cases or open watch faces, ensuring the perfect timepiece for your day.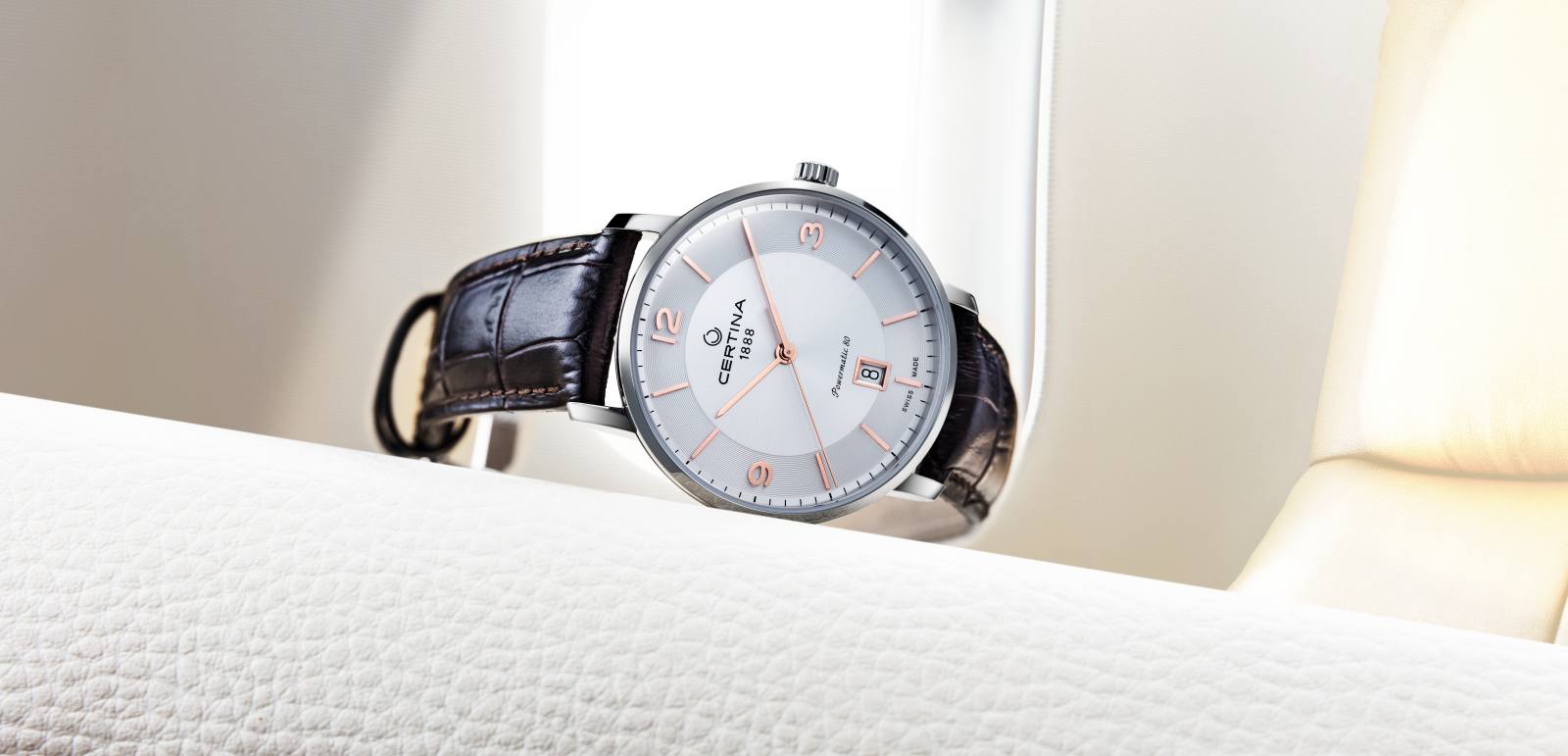 The watch above is part of the Certina DS Caimano range
For those of you who wish to uphold the 'Something old, something new, something borrowed, something blue' saying, maybe consider wearing a family heirloom timepiece. This watch doesn't need to adhere to today's fashion standards, the whole point of wearing this is to maintain a sense of tradition and family values. For the older watches you may wish to add a new leather strap to freshen up the watch, this is a small change which will make a huge difference to this already sentimental item.
All in all, your wedding is a special day between you and your partner and the watch you choose to wear should reflect your personality and taste. There are no right or wrong choices here, much like life, it's what you make of it.
Good luck and congratulations.